Many students are facing uncertainty as they graduate in the midst of a pandemic. UCR's Career Center is here to help.
The Career Center helps UCR students navigate potential career paths, and offers numerous resources. Though in-person resources are suspended due to the campus shutdown, the Career Center is offering a number of virtual resources to make the class of 2020's transition easier.
"Our mission is to connect, inspire, and empower students to find a career path that will lead to a successful, happy future," said Career Center Director Sean Gil. "My goal since arriving has always been to increase the value of a UC Riverside degree in the global marketplace. This benefits not only current students, but alumni and future Highlanders."
A majority of the scheduled programs have successfully transitioned into virtual events. Students can meet virtually with two CHASS-specific career counselors, Kristen Roberts, Career Specialist for Social Sciences, and Kimberly Kampen, Career Specialist for Humanities, Arts, Education and Public Policy.
Career counselors offer 30-minute appointments or 10-minute drop-in's, and offer help with resumes, interview practices and other critical advice to help students take steps toward future careers.
"I think with the perspective of arts, humanities and social sciences, there is a natural perspective of being able to communicate effectively and being able to have different lenses looking at different careers," said Career Specialist Charlie Rodnuson. "Your major does not define your career. It's the perspective that you bring. Your interests and experiences shape your career."
"Making career decisions is always a challenge, and the impact of the coronavirus on the economy has made it even more so," Roberts said. "The Career Center is here to provide support and help students develop a plan according to their individual needs. Consider scheduling a career planning appointment with your career specialist, taking a career assessment, conducting informational interviews, and doing online research on careers you are considering."
Counselors are also providing senior-specific virtual resources by promoting new job opportunities in the Career Center's weekly newsletter and by providing access to a platform called Parker Dewey, a website similar to Handshake that connects recent graduates with employers.
"The Career Center has been supporting seniors by...adding the remote label to jobs posted to Handshake so students can more easily see jobs that allow them to work from home," Kampen said. "As seniors are often in need of interviewing support, the Career Center provides access to a platform called StandOut via Handshake. This mock video interviewing tool is intended to help students improve their interviewing skills. Seniors getting ready for their post-grad experiences can practice interviewing 24/7 with real example interview questions. We have also been working to remain updated on changing hiring trends at the local and national level through our professional association, NACE, as well as UCR employer partners."
The Career Center is also currently providing virtual career fairs that bring in employers or graduate schools to discuss student opportunities, skill-building workshops, and mock interviews.
"Two of our most robust resources, our website and Handshake, have always been accessible at any time of day and from anywhere in the world," Roberts said. "Many of our traditionally in-person services, such as drop-in and scheduled appointments, workshops, career fairs, and employer information sessions, have all been transitioned to a virtual environment."
"My advice to students is to never be scared to ask questions," Rodnuson said. "Even if you don't have an idea of what kinds of questions to ask, come in and see us because all of our staff have a commitment to being able to support students in any way we can. There's no dumb question, and even if you don't have a question, come in to see us and we can get the conversation started."
The Career Center hopes to work more closely with specific colleges by developing programs within classrooms and creating interactive online content. The center also hopes to continue listening to students by bringing in employers that students are interested in, such as a recent partnership with Google that now offers invitational site visits to CHASS students, while also sharing information about lesser-known companies and start-ups.
"Within the past few years, we have had the pleasure of connecting with Google to do invitational site visits with some CHASS students," Rodnuson said. "We were able to connect with them and set up site visits where students can go and see that Google isn't just tech, it has opportunities for students to bring their arts and media perspectives into Google as well."
"The Career Center intends to continue to provide these invaluable resources to students after the campus re-opens," Kampen said. "As providing many of these services will be subject to health and safety protocols determined by the campus and community, we anticipate the delivery of these services might look different in the future."
"Our Career Center is very special because I think we really model what UCR represents, which is a commitment to diversity and a commitment to our students," Rodnuson said. "We never stop finding opportunities for students. We try to go deeper and show students they have a lot to offer."
For more information or to contact a career specialist, please visit careers.ucr.edu.
What the Career Center can do for you
Find a job: Search job listings, land an internship or work abroad.
Perfect your job search: Improve your resume, network and more.
Plan your career path: See jobs your major could lead to and use a timeline to stay on track.
Get ready for grad school: See what tests to take, how to get recommendations, and when to apply.
Online services: Take workshops online, use interview practice software and hone your job skills.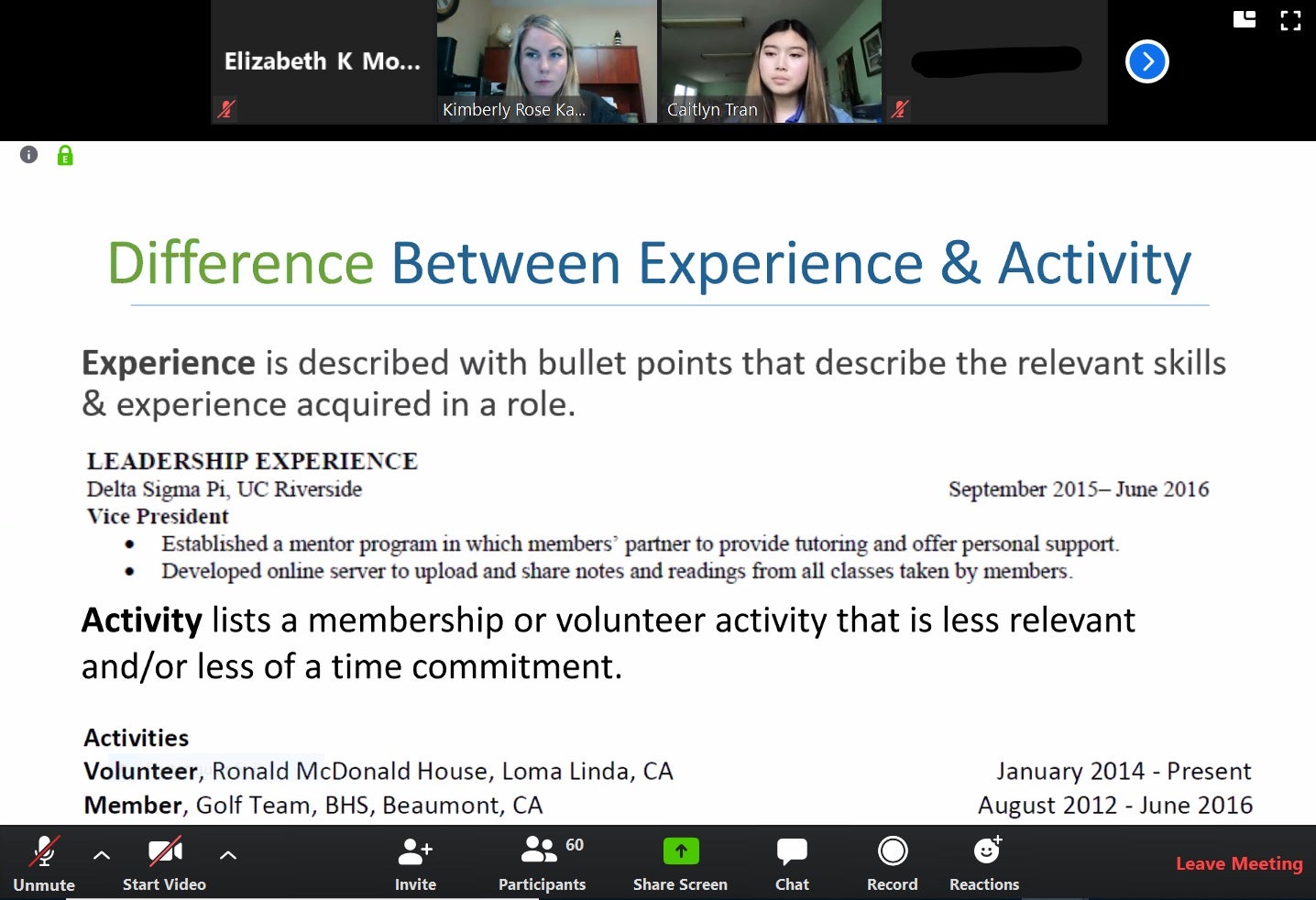 ---