As COVID-19 continues to impact UCR, students are facing unique challenges within the CHASS performing arts departments which include Dance, Music, and Theatre, Film, and Digital Production (TFDP).
Acting classes conducted via Zoom begin with a wellness check-in for the students and professors to keep in touch with their own feelings. Talking through emotions during the class period is an important component of the acting curriculum, according to Kimberly Guerrero, TFDP professor and the department's artistic director. The classes make sure to give students a safe space to be vulnerable and truthful about problems that arise in their personal lives, Guerrero said.
"As actors, our whole goal is to be truthful and to be telling stories authentically as we can which means that most of us are highly empathic people," Guerrero said. "When you couple that with the fact that the instrument we are working with is our entire being— body, mind, emotions and  energetic/spiritual self — it becomes crucial to find ways to find balance and wholeness in order to practice our craft, especially during the extraordinarily stressful season we're all navigating."
Despite the challenges of a virtual classroom, Guerrero does see advantages. Professors are able to utilize Zoom to conduct mock online acting auditions and interviews, as well as facilitate online lectures with guest speakers. Earlier this year, students had the opportunity to learn from actress Sarah Drew, who portrays Dr. April Kepner in the popular TV drama series "Grey's Anatomy."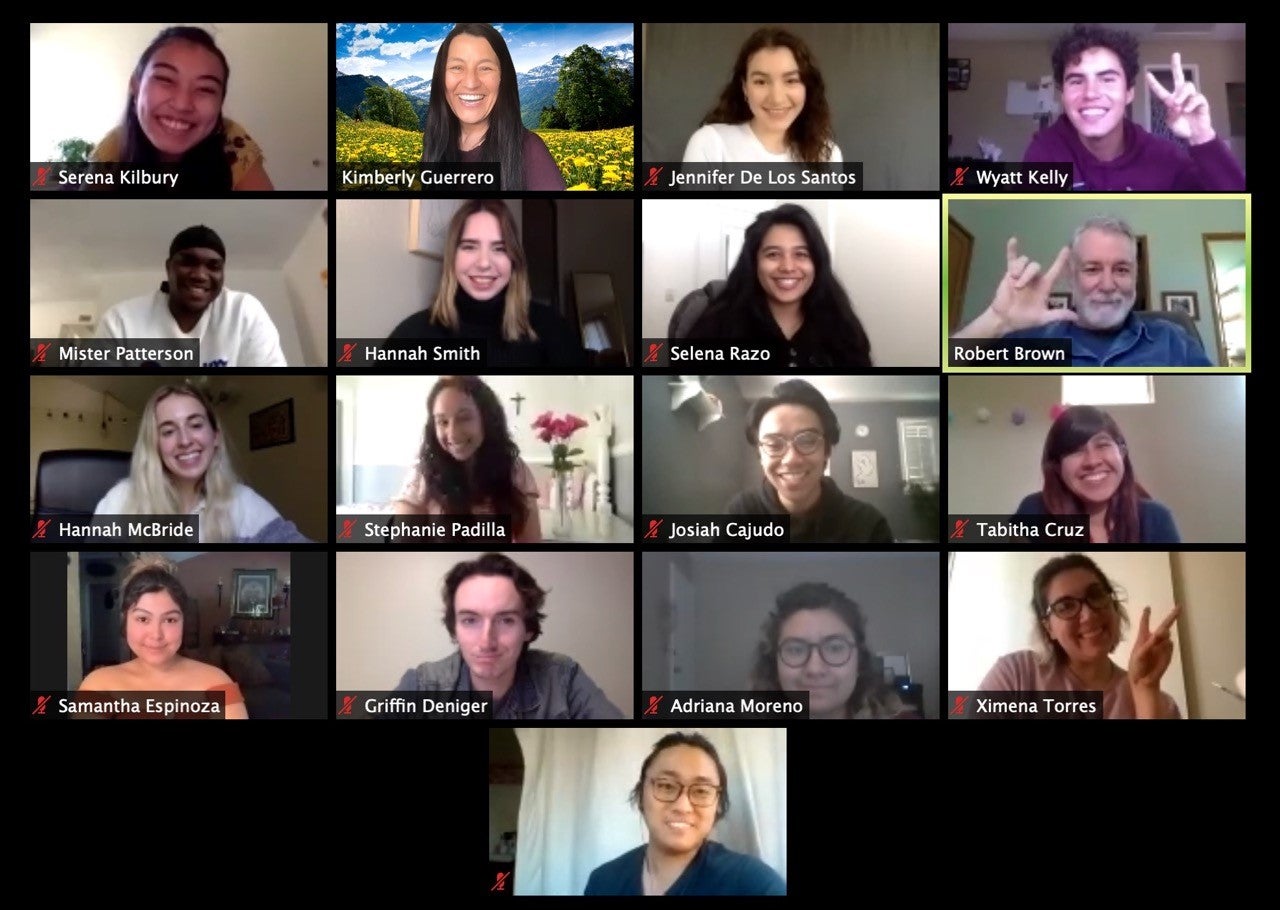 In March, UCR's concert band and orchestra performance directed by Lauren Wasynczuk, UCR concert band director, and Ruth Charloff, UCR Orchestra director, was canceled a day before the performance due to COVID-19. While the thought of not having live music performance that had fostered social interactions was extremely disappointing, the shift to online instruction became a pathway that yielded creative ways to rethink how musicians rehearse and perform, and maintain community in a remote setting.
Moving everything online presented challenges with latency, performance and location. Music classes have started to implement virtual breakout room sessions and utilize various apps to submit music recordings for grading purposes. These opportunities have continued to encourage student collaborations to build strong team-building skills, as well as learning to use their voices to empower others despite being at home, Wasynczuk said.
"Music is healing and is a key ingredient of the classes," Wasynczuk said . "While we are learning music, we are also learning about ourselves through the process."
UCR Music Department's Experimental Acoustics Research Studio (EARS) assisted in the teaching and supported music students with editing their concert performances to include concert-quality sound. Wasynczuk's students learned how to edit, record, and mix music to produce high-quality audio at home. UCR Music Department's Concert December 9th featured skills the music students had learned with both video and musical performances. The experience also led to a piloted program coordinated by EARS Student Group founder, Ethan Castro, will allow students to rehearse and perform live with musicians in different locations.
Talia Mason, a second-year MFA student in experimental choreography, also embraced Zoom technology for her fourth-quarter dance showing, Water Lines. Water Lines is an improvisational piece that includes various projections and video recordings of Mason's family home on a lake in Maine. Mason is the only one of three students within the MFA in experimental choreography that uses projections and videos to showcase her work, which provided advantages to translating it into a virtual performance.
Originally from the east coast, Mason moved back to Maine to be with her family once UCR's campus went mostly virtual in March 2020. Mason traveled back to Riverside to prepare for her October performance in UCR's performing arts studio, and even had water from the Atlantic Ocean shipped out by a friend.
Mason's family and friends from the east coast were able to view the performance live via Zoom. Many would not have been able to view it if Mason had performed for an in-person audience.
Since the beginning of the pandemic, Mason said it's been hard for many of the students within the dance department to have the feeling of wanting to dance and having the energy to dance. Preparing for her own performance has also triggered emotions and made Mason consider what makes her feel happy.
"Art has a way of transporting us and helping us when we're having a hard time," Mason said.