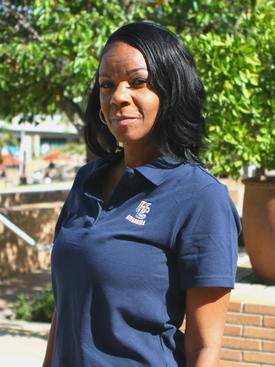 Janice Henry is a key member of CHASS Student Affairs. Serving as the CHASS Enrollment Management Supervisor, she has become the first supervisor of the new enrollment management team for CHASS. In her role, Henry works closely with the Registrar's Office, CHASS department chairs and faculty, and assists students with enrollment. She is also the enrollment manager for the Departments of Anthropology, Sociology, Art, Art History, Creative Writing, Dance, Music, and Theatre, Film, and Digital Production.
"Janice has done an exceptional job since becoming the Enrollment Management Supervisor in helping meet the needs of our college in terms of academic scheduling," said Ryan Lipinski, Director of CHASS Majors Advising. "Through the last year, Janice has remained positive and optimistic about the world and has provided her staff with the support needed to feel that in their work lives as well. She has thought innovatively about the student experience and put together new processes that help serve UCR students better. Janice has been top-notch during COVID!" 
How has it been being the first supervisor of the CHASS enrollment management team?
It has been great, because I work with a great team, and have a supervisor who supports me.  Also, I was an Enrollment Manager prior to becoming the supervisor, and I worked with many of the department chairs, faculty, advisors, staff, and the current enrollment managers, so coming into this position I was confident that I could do the job and believe many had confidence in me once I became the supervisor.
What's different about this specific job and position that UCR did not have before? 
The EM supervisor position offers continuity to CHASS.  Prior to me becoming the singular supervisor, each Enrollment Manager had a different supervisor and was on a different team, which meant although we provided the same duties to our departments. we functioned independently. Now having one supervisor with Enrollment Management experience, we work as a team and are more cohesive when it comes to processes and procedures.  Also having one supervisor helps with streamlining communication across campus.
What are your favorite aspects of the position? Is there anything that took you by surprise when joining? 
I am a big proponent of higher education and my favorite part of what I do is giving our students the best customer service to make their educational experience a success.  Nothing took me by surprise, but it's always nice to have support and have people believe in you and your abilities, and that is exactly what I have received since receiving this position.
What is something you enjoy doing in your spare time, outside of work?
Reading: There is nothing more relaxing for me than to open a book and transform myself into a place, a time, and with characters or people that I may never get to see or meet in my lifetime.
What's a cool/fun fact about you?
I'm pretty sure my kids will say this is not cool, but I have learned more than my share of TikTok dances.
What are three words that you would use to describe yourself? And why?
Compassionate, dedicated, and reliable.  I believe that everyone's experience is valid, and although I may have never had the same experience, I try to respect everyone's experiences. I am connected to who and what I believe in and therefore am loyal and dedicated to the end.  I believe if you say you are going to do something you should do it, because the best ability is reliability.
What is something that you are looking forward to, whether it be during the spring quarter or summer break? 
Summer breaks or rather vacation time for staff, allows me to spend more time with my family.  We all take at least one week at the same time and just reconnect the entire time.
What's your favorite genre of music?
R&B, rhythm, and blues, I'm here for it anytime, anywhere.
What's the career highlight you are most proud of thus far?
Every commencement ceremony since I started working in higher education in 2002.  I know that within that class of graduates, I made a difference for someone.